Reagent Guides
Judicious reagent selection for a given chemical transformation represents a key decision, which is influenced by a variety of different factors depending on what stage it is made in the drug development process. Whereas in Discovery, chemists seek reagents that work across a wide range of "drug-like" substrates, in Development, the ability of a reagent to be used for scale-up to prepare multi-kilogram batches is the most important consideration. From a Green Chemistry perspective, it is important to introduce the greenest possible reagent as early as possible in the discovery/development process with the assessment of greenness taking into account factors including worker safety, ecotoxicity and atom economy. In an effort to inform this decision, the Roundtable has developed 18 reagent guides covering different chemical transformations, with more planned. The guides use the Venn diagrams originally developed by Pfizer (Green Chem., 2008, 10, 31) enabling users to rapidly visually assess the attributes in terms of scalability, utility, and greenness of a given reagent for a transformation whilst links are provided behind the guide containing details regarding safety, ecotoxicity as well as relevant examples with up-to-date references.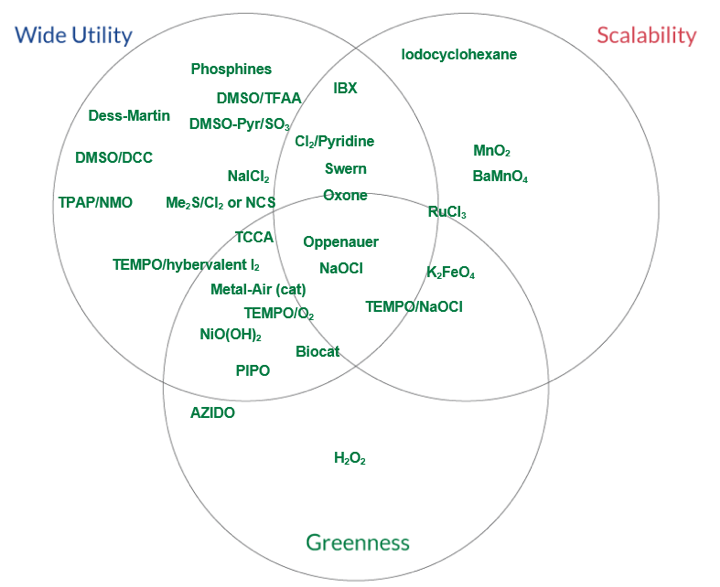 Team Leads
Team Members
Andy Wells, Daniel Laity, Fabrice Gallou, Helen Sneddon, Yin Jingjun, Lorene Calvano, Michael Carroll, Qiang Yang, Richard Fox, Christiana Briddell
Goals
To inform and drive greener reagent selection as early as possible in the drug discovery/development process through the promotion and continuous improvement (including introduction of new guides for emerging pharmaceutically-relevant chemical transformations) of reagents.acsgcipr.org.
Production, promotion and upkeep of the Reagent Guides Tool.
Team Folder
Projects
Publication/Promoting the Guides
The team has starting writing a paper on the guides to both highlight case studies on their utilization as well as increase their visibility.
Preparation of New Guides
There are seven new guides planned for deployment in 2019 including key pharmaceutically-relevant transformations such as amide bond formation, fluorination and biocatalysis. Development of the new guides is carried out by team members in partnership with Andy Wells (Charnwood Consulting).
Soliciting External Engagement
Given that the guides are intended to be a "living" resource, and that after a brief exclusivity period to roundtable members are openly accessible, the team have actively embedded a feedback loop within the guides in order for suggestions to be made regarding references on new reports to be considered for inclusion in a current guide as well as potential proposals for new transformations to be covered in future guides.
Team Status
Updated: September 2021
Achievements
Reformatting of guides in old templates now complete for publication
5 new guides to be published in September/October: Ketone reduction, thioether, biocatalysis, cyclopropanation, achiral hydrogenation
Circulated survey to member companies, academia contacts and via the webpage. Responses have given useful feedback
Challenges
Older (legacy) guides may require updates – new literature review needed
Add updates from previously carrying out the above exercise for other guides
Best method for continued awareness and uptake in academia is more challenging than for industry
Activity Snapshot
Amide bond formation guide is in development
'Awareness' scored lower than we may have expected in survey results – continued marketing and publicity required in both academia and industry and idea generation for how to achieve this
In reference to above, discussions around publication of the tool ongoing
Upcoming Projects
Update webpage with regulatory and chemical supplier guidance as a result of feedback from the survey
Seek in-depth feedback from academics who were keen to be involved in feedback sessions